New Positive Displacement Plunger Pump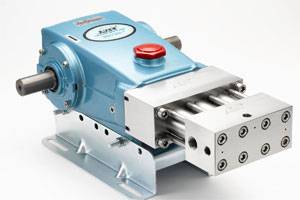 The new 10,000 PSI Model 1810 pump has been added to Cat Pump's line of triplex positive displacement pumps. This pump delivers a low pulsation flow of 3 GPM at 10,000 PSI. The 1810 pump has a low unswept volume [minimal un-evacuated liquid remains in the pumping chamber] resulting in high volumetric efficiency. The 1810 triplex positive displacement pump has a compact footprint for both portable and stationary installation.
Applications include:
• Hydrostatic testing
• Chemical Injection
• Surface prep-Tube cleaning
• High Pressure Tooling
• BOP-Blow Off Preventer
• Railroad undercarriage and tank car cleaning
• Oilfield paraffin and crude residue washdown
• Marine barnacle-growth-paint removal
• Sewer drain blasting
• Heavy equipment cleaning
Custom Features include:
Block-Style manifold of heat treated 304 stainless steel for strength and durability
High strength plunger rods, oversized bearings and chrome-moly crankshaft provide a heavy-duty, durable drive-end.
304 Stainless steel Seat mates with a Ceramic ball to provide true sphericity and long life
Solid Ceramic plungers provide a wear resistant surface for long seal life
Custom Delrin seals and UHMV V-Packings for endurance under high pressure
Optional 15,000 PSI Rupture disc, Regulating Relief Valve and Pressure Gauge complete this pump package. Each pump can be fitted with optional adapters for standard NPT connection.