MAN Diesel Powers Danish Navy OPVs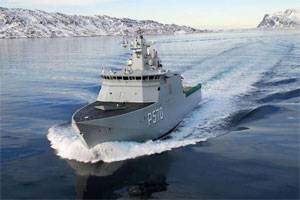 After delivery from Karstensens Shipyard, Denmark, the second Offshore Patrol Vessel (OPV) for the Danish Greenland operation entered official command under the Royal Danish Navy on 16 January. The vessel, which has been named Ejnar Mikkelsen (P571), is built for a wide range of arctic and coastal operations, like its predecessor. The newbuilding is expected to enter North Atlantic service at the end of February 2009 and follows the first vessel, Knud Rasmussen (P570), which was commissioned into the Royal Danish Navy on 18 February 2008.

Both vessels are powered by robust twin-engine medium-speed propulsion packages from MAN Diesel. The propulsion engines are two 8-cylinder L27/38 units, resiliently seated, each with a nominal rating of 2,720 kW at 800 r/min. The engines drive a MAN Diesel Alpha VBS 1080-series CP Propeller and an AVK shaft alternator through a Renk NDSL-2500 twin-in/single-out reduction gearbox. The propulsion equipment is ice-strengthened for operation through an ice thickness of 2.3 ft. The complete propulsion package, including local engine monitoring, control and safety systems, is controlled from the main bridge control station, from two indoor slave control stations, and from the engine control room stations via an Alphatronic 2000 system.

In the North Atlantic, the operational tasks of the OPVs Ejnar Mikkelsen and Knud Rasmussen will include fishery inspection, environment protection, search and rescue, sea surveillance, sovereignty assurance and assistance to the Danish/Greenlandic government. Both vessels are designed with an aft helicopter landing deck and an internal slipway for a 39.4 ft high-speed landing craft. This patrol vessel application takes full advantage of the well known virtues of medium-speed engines in long endurance operation und adverse conditions – e.g. robustness, high availability, and excellent operating economy and emissions levels. With its full-line of medium-speed engines, generator-sets, marine gears, propellers and complete propulsion systems, MAN Diesel is ideally placed to meet the requirements of naval and governmental vessels - which now generally place more emphasis on missions of longer range which can occur anywhere in the world. The new OPVs will replace two of the Royal Danish Navy's smaller and old Agdlek-class Inspection Cutters from 1973. About the ship names: Mr. Knud Rasmussen (1879-1933) and Mr. Ejnar Mikkelsen (1880-1971) were arctic explorers, who both created numerous remarkable scientific results during their Greenland expeditions in the beginning of the last century.