Keppel, J. Ray Win $1B Contract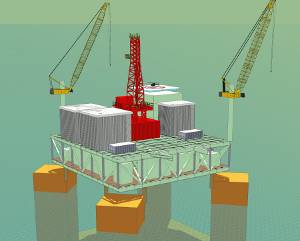 FloaTEC Singapore Pte Ltd (FloaTEC Singapore), an equal joint venture between Keppel FELS Ltd (Keppel FELS) and J. Ray McDermott (J. Ray), has signed a contract worth about $1b with the Papa-Terra Joint Venture, consisting of Petrobras and Chevron, to build and operate the P-61 Tension Leg Wellhead Platform (TLWP). This follows shortly after a Letter of Intention for the unit was issued by the Papa-Terra Joint Venture to FloaTEC Singapore in October 2009.

The project scope — comprising design, engineering, construction, maintenance and installation work, as well as a three-year contract to operate the TLWP — will be jointly undertaken by Keppel FELS and J. Ray. Keppel FELS and J. Ray will also enlist the expertise of their US-based joint venture company, FloaTEC LLC, to perform global engineering and basic design work, as well as manage the supply of risers, well systems and tendon components for P-61.

Designated for Brazil's Papa-Terra field in the Campos Basin, the P-61 TLWP will work alongside the P-63 Floating Production Storage Offloading vessel to handle up to 180,000 barrels of oil per day. P-61 will be built at Keppel's BrasFELS yard in Angra dos Reis, fulfilling local content requirements, while its critical components such as the tendons, temporary buoyancy modules and piles will be fabricated at J. Ray's Morgan City facility in La. U.S. Targeted for completion by mid-2013, P-61 will be installed on location in the Papa-Terra field by J. Ray.