Norwegian Diesel Electric Joins Trend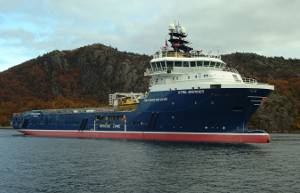 Offshore shipping companies are increasingly turning to diesel electric propulsion systems as an efficient means of meeting the performance requirements for modern platform supply vessels. Builders in the U.S., China, Singapore and Norway have all delivered a variety of diesel electric vessels.

In Norway the shipyard of Simek A/S recently they followed up earlier vessels when they delivered the M/S Stril Mariner to Simon Mkster Rederi AS in Stavanger, Norway. The Stril Mariner, named at a ceremony on October 30, 2009, is 257.8 ft long with a 57.7 ft beam and a moulded depth to the main deck of 25.2 ft. With a 3,755 deadweight tonnage the PSV has tankage for 8,127 ft of fuel oil, 925 m3 of fresh water, 1250 m3 drill water and 1010 m3 each of mud, liquid mud and brine. Additional tankage includes 175 m3 of methanol, 150 m3 of glycol, 315 m3 of dry cargo and 1300 m3 for ORO. The cargo deck is 755 square meters.

Accommodation is provided for 31 people in 11 one-man cabins and 10 two-man cabins. There is also a deck office, a hospital and a conference room. The vessel is certified by ISO 9001:2000 (Quality) and ISO 1401:2004 (Environmental). Designed by the Havyard firm of naval architects the Stril Mariner has all tankage installed so that there is no storage of liquids that could harm the environment against the ships hull shell.

In addition to this and other provision, the vessel gains its green designation as a result of the diesel electric propulsion system. As only the engines required to maintain the task as hand need be running the resulting emissions, as well as fuel costs, can be dramatically reduced. To achieve this flexibility in the main propulsion system the Stril Mariner is fitted with four Cummins KTA50-(D)M engines each of which turns a generator to produce up to 5,164 kW of power. This can drive the two azimuthing (Roll-Royce Marine AS, Ulstein Aquamaster, model US 205 CRP ) drives for main propulsion as well as a pair of bow thrusters. Engines and generators can be shut down when holding position or travelling at reduced speed thus reducing the released pollutants. Additionally the main engine exhausts have been fitted with a Selective Catalytic Reduction (SCR) exhaust gas cleaning system, cleaning the environmentally hazardous CO (carbon monoxide), NOX (nitrogen oxides) and VOC (hydrocarbons) in the exhaust with ammonia, and the nitrogen oxides of the exhaust gas becomes environmentally natural substances water (H2O) and Nitrogen (N2), thus reducing the NOX by approximately 90%.

As diesel electric and other initiatives to contain operation costs while reducing a ships environmental impact proliferate the vessels become ever more complex. In that context the classification societies have a greater challenge. It is no longer just about hull plating welds and shaft alignment. The Stril Mariner is classed by DNV with Class Notation * 1A1 Fire Fighter I OILREC SF LFL* COMF-V(3) E0 DYNPOS-AUTR NAUT-OSV(A)CLEAN DK(+) HL(2.8).

A sister ship to the Stril Mariner is slated for delivery in the spring of 2010.