Ultrajet Power Three High-Speed Catamarans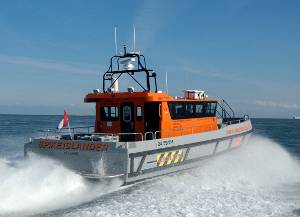 Ultra Dynamics supplied three sets of twin UltraJet UJ377 Waterjet installations to South Boats for their New Mk II GRP 43/12m WFSV RRV Catamarans RRV Audrey, Offshore Response 1, and Spike Islander. The GRP catamarans have all been tailored to meet specific code and operational requirements of Wind Farm operations operators Turbine Transfers (Holyhead Towing) and Offshore Wind Power Marine Services:Limited (OWPMS) and Waddentaxi in the Netherlands respectively.

Constructed on the Isle of Wight the new hull mould incorporates a number of design features using a high ratio of convex underwater shapes coupled to an enhancement of South Boats' proprietary under bridge design, thereby producing a hull with an increased weight carrying capacity. A new Mk II wheelhouse has also been designed and moulded giving the vessel a complete new look. As well as simplifying outfitting, this has reduced weight and decreased construction costs.

Measuring 43.6 ft in overall length this newly designed vessel continues to deliver excellent performance and superior sea-keeping reaching a maximum speed of 34 knots thanks to the twin Iveco FPT NEF 500 BHP diesel engines, viaTwin Disc MG5071SC gearboxes coupled to twin Ultra Dynamics UltraJet UJ377 waterjets. The jets supply maximum thrust for holding station at wind farm turbines and for high speed crew transfers.

With a draft of less than 2.3 ft this is also ideal for shallow water sites, or for working from harbours with draft restrictions where engineers can be transported potentially hours before the main work vessels can transit.

The UltraJet waterjets are controlled at the helm by a JetMaster joystick control system. This system provides excellent maneuverability which is essential when off-loading at the turbines. The South Catamaran modern central deck house has been designed to accommodate either 10 engineers in KAB sprung seats with tables, or 12 engineers/or passengers in KAB sprung seats without tables at sprint speeds in excess of 32 knots and 28 knot plus cruising speeds. This makes the design ideal for fast transfer of engineers or VIP's or fast transportation of support equipment. An ideal construction support vessel or O & M support vessel.

This design can also be configured as a survey vessel capable of carrying out mammal watching, monopole scouring surveys and general site water depth surveys.