ABB Propulsion for China-Built Cruise Ship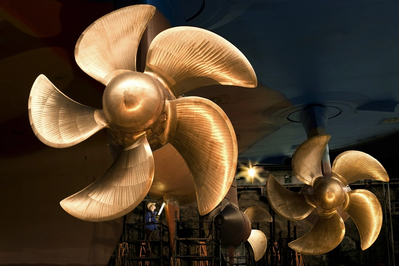 China's first domestically built cruise ship, to be built at Shanghai Waigaoqiao Shipbuilding Co., Ltd. (SWS), will feature a power and propulsion package from ABB.
From ABB's perspective the deal includes two Azipod steerable propulsion systems for the 323m vessel, due for delivery in 2023. The ship will be built to accommodate 5,000 passengers and is designed to suit the tastes of Chinese cruise travelers whose numbers are expected to rise to 8-10 million annually by 2025, according to industry body Cruise Lines International Association (CLIA).
In addition to the Azipods, ABB also will provide a complete electric power plant concept with electricity generators, main switchboards, distribution transformers and a propulsion control system for moving the Azipod units from the bridge. The Azipod units can be fully integrated with the electric power plant and propulsion control system for optimal energy efficiency. The digital system includes remote diagnostics capabilities, which enable connectivity to ABB Ability Collaborative Operation Centers. O
The new vessel will be part of a fleet of Chinese-built cruise ships operated by CSSC Carnival Cruise Shipping Limited, a joint venture between Carnival Corporation Plc and China State Shipbuilding Corporation (CSSC). Shanghai Waigaoqiao is a wholly-owned subsidiary of CSSC.