ABS-classed Ship Carries Historic LNG Export from US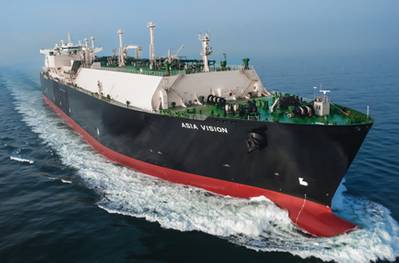 Milestone marks another 'first' in the Class Society's history of serving the gas market.
Cheniere Energy, Inc. has commissioned a cargo from the Sabine Pass LNG Terminal. Carried aboard the Asia Vision, an ABS-classed LNG Carrier, the cargo represents a milestone in ABS's history of serving the gas industry, the classification society said.
"The first export shipment of liquefied natural gas from Sabine Pass is a historic moment for the entire North American energy sector," said ABS Chairman, President and CEO Christopher J. Wiernicki. "Since the shale gas boom began, ABS has been working closely with members and clients to assist them in taking full advantage of the many new opportunities. From the potential to carry export cargo to gas fueled vessels, our team of gas specialists understands the unique technical needs of this growing market."
The Asia Vision is a 160,000 cbm gas carrier built by Samsung Heavy Industries. Delivered in 2014, the vessel utilizes four Mark III LNG containment tanks from GTT. The vessel also carries the ABS ENVIRO+ notation, which denotes adherence to advanced standards for environmental protection.
"Today's energy landscape requires owners and operators to leverage new technology and prepare for expanding regulatory requirements," said ABS Vice President for Gas Solutions Patrick Janssens. "ABS is working alongside the industry to develop the next generation of gas technologies, leveraging our experience as a trusted advisor to those navigating the unique needs of the North American gas sector."
ABS noted it classed the world's first LNG carrier, the Methane Pioneer, in 1959 and has extensive experience with the full scope of gas-related assets, including the largest LNG carriers in service. In 2013, ABS formed the Global Gas Solutions Team in response to the rapid escalation in the number of gas-related projects, including LNG and LPG transportation and the expanding use of LNG and LPG as fuels.