Scheldepoort to Convert Jack-up Rig into Offshore Hotel Accommodation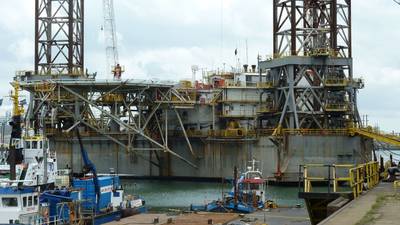 Scheldepoort Repair & Conversion Yard has been awarded a contract to convert the jack-up drill rig Shelf Explorer into offshore hotel accommodation. The accommodation unit will then be known as Atlantic Amsterdam, owned by Atlantic Amsterdam Pte. Ltd. in Singapore, a subsidiary of Ezion Holdings Ltd.
Scheldepoort Repair & Conversion Yard (based in Vlissingen, The Netherlands) is part of Damen Shipyards Group and specializes in modifications, repairs and refits. The yard carried out an identical project in April 2011 for the former drill rig which is now known as Atlantic Labrador. This type of conversion work is becoming more common following new safety regulations where offshore workers are no longer allowed to live on production platforms except during working hours.

Scope of Work
Demolition work then started with removing the derricks and drilling installation completely, including the mud pumps and tanks, sliding piece and cement installations as well as all the remaining drilling equipment, cabling and piping. The new accommodation block, which will house approximately 135 people, has already been prefabricated in Vlissingen and existing accommodation facilities will be refurbished. New life saving boats will be installed and the rigs will be fitted with stabiliser pumps to comply with the latest regulations. Work is expected to be completed in October. Nordica Offshore is project manager on behalf of the customer and is carrying out the outfitting of the accommodation unit. Dutch engineering services company Alewijnse Marine Systems will be handling the electrical systems work. Alewijnse Marine Systems is also based on-site at Scheldepoort. "We are specialized in the repair and conversion offshore market and already carry out a lot of maintenance and repairs for support vessels as well. Scheldepoort operates to the strictest health and safety standards, which are regularly audited by the oil and gas industry representatives," stressed Mr Loohuis.