Reflex Marine Launches First Accredited Service Center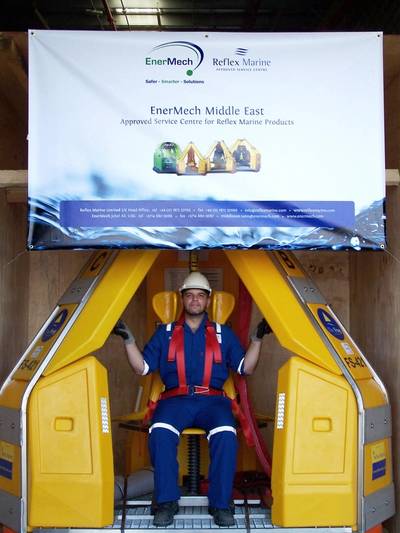 Expert in marine personnel transfer Reflex Marine has launched a global accredited service centre programme, for its FROG and TORO devices, to ensure uniformly high standards of maintenance and safety for its clients.
The first of the accredited service centres has been established in Dubai and will significantly increase the level of support given to new and existing clients in the Middle East. Enermech FZE has been appointed as the first accredited service centre and distributor for the FROG and TORO in the region.The accredited service centre will provide operators who use the devices with a regional focal point and will improve the local availability of parts, and approved trainers and services.
The Enermech FZE centre is the first of its type, but underlining Reflex Marine's increased customer support on a global basis, the company has plans to establish a further seven accredited services centres in the UAE, Canada, the Caspian region, Norway, Singapore, the US and Brazil. Reflex Marine Middle East sales manager, Grant Wintle said: "The Middle East is a key region for Reflex Marine. Safety standards are improving which is leading to an increase in demand for our products. Enermech's experience in the crane and lifting arena means that the two businesses are very well aligned."
Enermech say they are proud to be associated with Reflex Marine and their Frog and Toro units. Charlie Topp, regional director, Enermech Middle East & Caspian Region, said "We are delighted to be the first Accredited Service Centre for the Reflex Marine product lines and to share our experience in the cranes and lifting business."Our Dubai base is what we hope will be the first of many Accredited Service Centres providing units, service, maintenance, training and customer support. Reflex Marine provides a new standard in man riding products and we are delighted to be associated with them. Together we will strive towards providing the highest standard of safety and service to our valued customers." Reflex Marine operations director, David Brittan adds: "The safety of personnel during transfer is paramount and, as an industry, we must remain fully focused on minimising the risk to our workforce. We view providing high-quality service capabilities, for critical lifting items, as a key pillar in our efforts to drive up global standards."
This announcement of the accredited service centre programme is the latest development in Reflex Marine's continuing drive to improve global health and safety in the marine personnel transfer sector.