GOGL Acquires New Vessel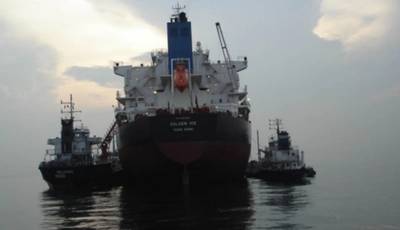 Norway based dry bulk shipping company Golden Ocean Group Limited (GOGL) has taken delivery of the second vessel, Sea Monterrey (to be renamed Golden Monterrey).
On October 16, 2017 GOGL announced that it has entered into agreements to acquire two modern Capesize vessels from affiliates of Hemen Holding Limited, a company indirectly controlled by trusts established by
John Fredriksen
for the benefit of his immediate family (Hemen), the Company's largest shareholder, at a purchase price of USD 43.0 million per vessel.
The first vessel, Golden Behike, was delivered in November 2017.
Bermuda registered
GOGL has issued 2,000,000 shares to Hemen as part of the purchase price for the second vessel.
Following this transaction, the Company's issued share capital is USD 7,209,884.85 divided into 144,197,697 issued shares, each with a nominal value of USD 0.05.
GOGL owns and controls a fleet of 78 vessels including newbuildings and vessels chartered in on long term time charter contracts.