PALFINGER Finalizes Harding Acquisition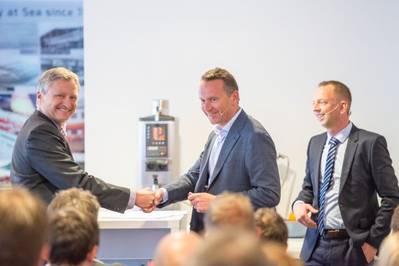 The PALFINGER Group closed the acquisition of 100 percent of the shares in Herkules Harding Holding AS, i.e. the globally operating Harding Group, supplier of lifesaving equipment and lifecycle services for maritime installations and ships.
The PALFINGER Group's new member will be reported on as a fully consolidated company starting from the second quarter of 2016.
As a consequence of the acquisition – the largest in the history of the PALFINGER Group – PALFINGER expands its marine business by adding new products and a global service network.
PALFINGER said the takeover will lead its marine business to almost double its business volume and generate revenue of more than €300 million, which is more than 20 percent of the group's total revenue. The service segment will help reduce PALFINGER MARINE's dependence on the oil price and consequently also on the investment propensity of the customer industries.
Harding is headquartered in Seimsfoss,
Norway
, and operates a comprehensive service network across 16 countries worldwide. With a staff of approximately 800, Harding generates roughly half of its revenue, most recently recorded at €140 million, from lifecycle services.