Acta Centaurus Nears Completion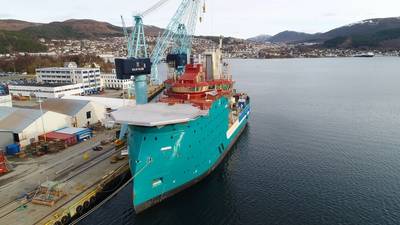 Netherlands-based Acta Marine announced that its next offshore wind farm installation vessel will be ready in next two months.

"'Acta Centaurus will be completed and ready for construction support vessel (CSV)/service operation vessel (SOV) operation in a little more than two months," said a press release from the company.

Acta Marine's site team is following the vessel's progress on a daily basis, such as the installation of the helideck on Sunday.

"The main topside equipment, including tower, gangway and crane, has been installed and tested previously, the helideck was the final equipment installation to take place," says Marcus de Greef, who is Project Manager for Acta Marine.

Marcus continues: "Commissioning of ships system such as main engines, propulsion system, bridge manoeuvring system together with completion of the interior in accommodation will be given focus the next weeks. Inclining test and yard sea trial are the largest remaining milestones".

Several of the site team members will be working on board Acta Centaurus, and several have also been working on the sister vessel, Acta Auriga.

Michelle Loffler will be 1st officer On Acta Centaurus: "I need to get familiarised with the vessel and the ship's systems. My job, as well as the others in the team, is otherwise to secure that the shipbuilding contract is being followed up accordingly."

The yard is compact, and it is not hard to run into the supervisors when the site team needs to get hold of them.