Panama Canal: 15 Years Under Panamanian Administration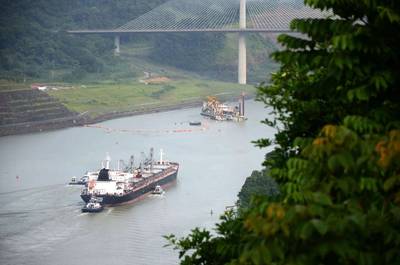 The Panama Canal celebrated its 15 year anniversary under the leadership of the Panamanian Administration. The
Panama Canal Authority
(ACP) is the autonomous agency of the Government of Panama in charge of managing, operating and maintaining the Panama Canal.
Since 1999, the Canal has invested $2.4 billion in projects aimed at updating its operational infrastructure and has acquired new equipment, guaranteeing its clients an efficient, safe, reliable and competitive service.
During fiscal year 2014 (Oct. 1, 2013 to Sept. 30, 2014), the Panama Canal invested approximately $171 million in the upkeep of various structures and equipment, including the dredging of the navigation channel; the control of erosion and landslides; maintenance of floating equipment such as tugboat, dredges, cranes and launches; and maintenance of locks and their components, as well as the dams, landfills, power plants, buildings and facilities.
Within the past 15 years, other achievements have included:
The Panama Canal Expansion
In 2007, the Panama Canal Expansion began on the construction of a new set of locks to increase the Canal's transit capacity. This is the largest infrastructure project in the waterway since its opening in 1914. As of December 2014, the program achieved 85 percent completion.
Currently, the Expansion Program reached a pivotal moment this year with the installation of rolling steel gates and electro-mechanical components. In 2014, the Program registered several major milestones such as the delivery of the 16 gates necessary to operate its new locks, including the transfer of the eight gates for the Pacific-side locks through the waterway, and the beginning of the installation process at the Atlantic side.
The first tests in the new locks are expected to take place at the end of 2015 to be ready for commercial transits in the first quarter of 2016.
The Panama Canal Centennial
This year the waterway commemorated its 100-year anniversary. As part of its centennial, the Panama Canal held a series of historical and cultural events throughout the year to celebrate the milestones that led to the opening of the waterway.
Upcoming Projects
The Panama Canal Board of Directors this week formally approved the development and construction of a transshipment port in Corozal. Upon completion, the port will have the capacity to handle more than five million TEUs within a 120-hectare area at the Canal's entrance to the Pacific.
Training
The Panama Canal has been preparing its staff and personnel to operate the expanded waterway. Since 2012, Canal pilots have been trained at the Panama Canal's Center for Simulation, Research and Maritime Development (SIDMAR) using Post-Panamax model ships. To further enhance its training capacity, the Panama Canal is building a new manned model training center. The center will include two lakes and 1:25 scale ships to simulate transits to the expanded waterway.
In addition, the
Panama Canal will
charter a Post-
Panamax ship
to train pilots and tugboat captains that will assist in transits through the new lane. The vessel will be used several months in advance of the opening of the expanded Canal to test the new locks.