IHC Merwede to Build Advanced Dredger for Boskalis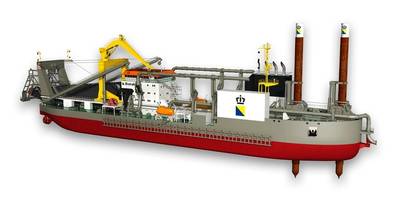 IHC Merwede has been contracted by Royal Boskalis Westminster (Boskalis) for the design, construction and delivery of a 23,684kW self-propelled cutter suction dredger (CSD) which will be one of the largest CSDs of its kind in the world.

The shipbuilders say that as part of the close cooperation and working relationship between Boskalis and IHC Merwede, much attention has been paid to the design of this latest CSD in terms of safety, the environment and increased operational workability. A particular feature of the vessel is the widening of the aft ship in order to reduce the draught.

"IHC Merwede is delighted to confirm this valuable new dredging project, following the major offshore order worth more than €1 billion for six pipelaying vessels earlier this year," says Bram Roelse, IHC Merwede's COO. "This order from Boskalis confirms that the dredging market has renewed confidence in IHC Merwede's exceptionally high levels of quality and reliability, as well as enhancing the company's positioning as the technology innovator."

About IHC Merwede
The company is focussed on the continuous development of design and construction activities for the specialist maritime sector. It is a global market leader for dredging and mining vessels and equipment and a supplier of innovative ships and supplies for offshore construction.