Afgan to Send First Indian Cargo Through Chabahar Port Next Month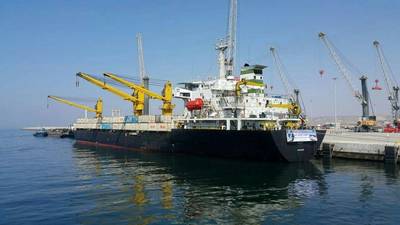 The first export cargo from Afghanistan to India will be shipped through Iran's Chabahar port within the Next Month using the international customs transit system (TIR system).

A government press release from Iran quoted Husne Mubarak Azizi, head of foreign affairs and Ministry of Transport of Afghanistan saying that that Afghanistan is preparing to ship the first cargo of five containers through Chabahar to India, which will take place within a month or less.

The cargo is mung beans and each container will weigh about 22 tons. The delivery of this 5 container cargo will be carried out under the TIR system, it said.

According to the Ministry of foreign affairs and Transport of Afghanistan, this cargo will be shipped as a pilot form Afghanistan to India.

TIR streamlines procedures at borders, reducing the administrative burden for customs authorities and for transport and logistics companies. It cuts border waiting times significantly, saving time and money.

TIR authorised operators can move goods quickly across multiple customs territories, under customs control, using a single guarantee. Harmonised systems and data exchange tools mean that operators only need to submit their declaration data once for the entire transit movement.

Each TIR transport from start to end of the journey is monitored on-line, so goods can be traced and secured while in transit.