Vroon, Seagull Maritime Ink Training Agreement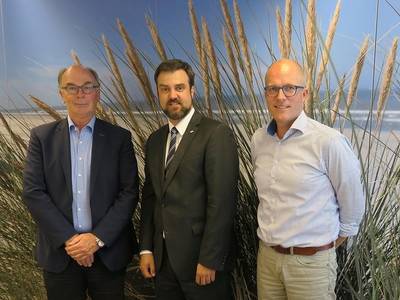 The international shipping company Vroon has recently signed a fleetwide agreement with training provider Seagull Maritime.
"Vroon has always been committed to safe practices and ensuring a duty of care for the safety and health of all employees and customers," said Head Crewing, Diederic van Keulen, Vroon "We believe our continued success depends on the abilities and dedication of our staff and how we nurture each individual. We have always shared information and promoted teamwork throughout our organization. So by focusing on training and personal development, we increase our position as the employer of choice within the industry."
Seagull Maritime will deliver a complete solution for a diverse fleet of approximately 100 vessels that Vroon operates through seven management companies, such as: Livestock Carriers; Offshore Support Vessels; Wind Turbine Installation Vessels and maintenance vessels; Dry Cargo Vessels; Container Vessels; Product/Chemical Tankers; Asphalt/Bitumen Tankers and Car Carriers. Through the selected training scope Vroon will have access to both ship specific training as well as generic training based on STCW requirements. A complete customer crewing software integration through the Seagull Training Administrator (STA) will also be implemented, making it easy for Crewing and HR department to keep track on progress and generate valuable reports.
Roger Ringstad, Managing Director at Seagull Maritime, said, "Vroon is one of the major shipping companies in
Europe with
a diverse fleet of approximately 100 vessels and very competent crew. Large and always updated training library, flexible and integrated solutions for installation and operation is important for Vroon as well as our other customers. We are really looking forward to a long-term relationship with Vroon."