Aircraft Carrier Funding Approved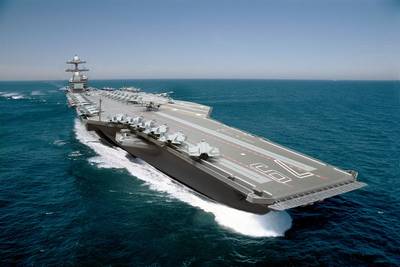 Huntington Ingalls Industries (NYSE:HII) said that its Newport News Shipbuilding (NNS) division has received a $43.4 million modification to a previously awarded contract from the U.S. Navy for purchase of materials for the construction of the aircraft carrier John F. Kennedy (CVN 79), the second ship in the Navy's newest class of carriers.
The funds awarded to NNS will be used to purchase major, long-lead-time equipment, such as the ship's elevator machinery and large pumps. NNS is performing work on CVN 79 under a construction preparation contract that allows for engineering, planning, long-lead-time material procurement and initial manufacturing to begin before the full construction contract is awarded. The full contract is scheduled to beawarded in 2013.
"This award enables us to continue our construction preparation efforts, allowing us to provide a more efficient approach to building the ship that supports one of our most important goals, affordability," said Mike Shawcross, NNS' vice president, CVN 79 construction. "We see the Ford, the first ship of the class, steadily taking shape in our dry dock, and it's exciting to know we will be building John F. Kennedy right behind it."
John F. Kennedy (CVN 79) will continue the Navy's legacy of highly capable nuclear-powered aircraft carrier ship platforms. Enhancements incorporated into the design of the new class include flight deck changes, improved weapons handling systems and a redesigned island, all resulting in increased aircraft sortie generation rates. The Ford class will also include new nuclear power plants, increased electrical power generation capacity, allowance for future technologies and reduced workload for the sailors, translating to a smaller crew size and
reduced operating costs. The result is a class of carrier that will have lower total ownership cost for the Navy and improved capability.