Russia to Deliver Indian Aircraft Carrier in Fall 2013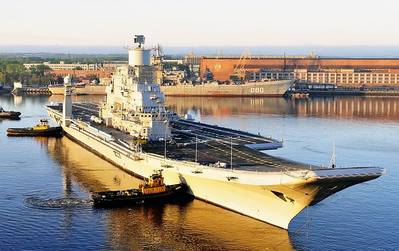 The 'Vikramaditya', formerly the Russian Navy's Admiral Gorshkov, already years past its set delivery had been due for delivery in December 2012.

Pre-handover sea trials in September revealed the ship's boilers were not fully functional, but these defects are expected to be remedied at the Sevmash shipyard in Severodvinsk by summer 2013, reports RiaNovosti.

Indian media have speculated New Delhi may seek more than $100 million in penalty payments from Russia for the latest delays in handing over the refitted aircraft carrier.

India and Russia signed the original $947 million dollar deal in 2005 for the purchase of the carrier, but delivery has already been delayed twice, pushing up the cost of refurbishing the ship to $2.3 billion.

The ship was laid down in 1978 at the Nikolayev South shipyard in Ukraine, launched in 1982, and commissioned with the Soviet Navy in 1987. It was renamed after the Soviet Union collapsed in 1991. In 1994, the Gorshkov sat in dock for a year for repairs after a boiler room explosion. In 1995, it briefly returned to service but was finally withdrawn and put up for sale in 1996.

The ship has a displacement of 45,000 tons, and an endurance of 13,500 nautical miles (25,000 km) at a cruising speed of 18 knots. It will have an air wing consisting of Russian-made MiG-29K jet fighter planes and Kamov Ka-31 early warning radar helicopters.

Some of the MiG-29K fighters have already been delivered to India.