Alnmaritec's New 'Wave Force'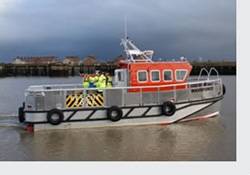 Earlier this year, the Alnmaritec Wave Handler class boat 'Wave Force' commenced line handling duties at a bulk carrier terminal near Dampier in Western Australia. This is the second of its line handling vessels that Alnmaritec has supplied to this region. The first has been successfully operating for over a year on an iron ore terminal at Point Lambert.
The Wave Force is the first of the new larger Wave Handler class from Alnmaritec. At just over 12m, she is 2m longer than the previous Wave Handler boats and has 1000bhp of installed power. She is fitted with Twin 'Trakor Jets' from North American Marine Jets, designed to give her a bollard pull of nearly 5 tons for line handling work and a speed of up to 25 knots. On the large aft working deck, she has a 2 ton hydraulic capstan and a 5 ton tow post with quick release hook. She is also equipped with a bow landing platform for personnel transfer.