ClassNK Issues First Alternative Ballast Coating Approval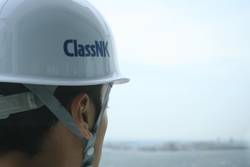 ClassNK Issues World's First Approval for Alternative Coating System for Ballast Tanks under PSPC.
ClassNK announced today that it had awarded type approval for the world's first alternative coating system under PSPC (Performance Standard for Protective Coatings) for ballast tanks to a single coating system manufactured by Nippon Paint Marine Coatings Co., Ltd. This approval is the first to be issued by any classification society anywhere in the world. Under PSPC, conventional epoxy coating systems are required to comprise two coatings. The standard does however include a provision which allows for alternative systems, such as the one approved by ClassNK, with only a single coating. A key function of the system developed by Nippon Paint Marine Coatings is the "SI (Self-Indicating)" feature whereby the color of the coating changes depending on its thickness. The application of this coating system to ships will begin upon confirmation from relevant administrations by ClassNK.
The PSPC standard provides technical requirements for protective coatings in dedicated seawater ballast tanks of all type of ships of not less than 500 gross tonnage and double-side skin spaces arranged in bulk carriers of 150 m in length and upwards for which the building contract is placed, the keels of which are laid or which are delivered on or after the dates referred to in SOLAS regulation Ⅱ-1/3-2 as adopted by resolution MSC216(82).