Jurong Port, NTU Pursue Alternative Energy Research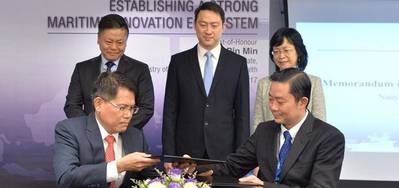 Jurong Port and Nanyang Technological University, Singapore inked an MoU at the Singapore Maritime Institute (SMI) Forum 2017 today to jointly pursue R&D in areas such as Smart Multi-Energy Systems, Alternative Energy Source Applications and Environmental Monitoring Solutions.
The MoU signing was witnessed by Dr Lam Pin Min, Senior Minister of State for Transport and Health.
The MoU, covering a period of five years, will have both parties jointly: (a) Conduct research projects and testbed solutions as part of Jurong Port's Living Lab programme. (b) Conduct mutual exchange of expertise including staff secondment programmes. (c) Organise events to promote greater environmental sustainability through maritime outreach activities and thought leadership.
The collaboration with NTU is an integral component and ties in with Jurong Port's Living Lab programme as part of its overall ambition to develop the 'Next Generation Multipurpose Port'.
"We are delighted with this partnership with NTU. It forms the inaugural component of Jurong Port's Living Lab programme to test bed solutions for our journey towards a 'Next Generation Multipurpose Port'', said Mr Ooi Boon Hoe, Chief Executive Officer, Jurong Port.
Professor Lam Khin Yong, NTU's Acting Provost, Chief of Staff, and Vice President for Research, said, "Jurong Port has played a key part in Singapore's economic development since it began operations in 1965. This partnership with NTU will see it leverage the university's engineering expertise and strength in developing innovative solutions, to allow it to continue its role as an important driver in the nation's economic growth. NTU is no stranger to testbedding the latest technologies and breakthroughs as its entire campus is a living lab of new ideas, and we are committed to help Jurong Port realise its vision to become Singapore's 'Next Generation Multipurpose Port."
"Jurong Port's Living Lab will join MPA as well as PSA's Living Lab to help drive transformation of the maritime sector as part of the Sea Transport Industry Transformation Map. We look forward to collaborate on impactful research programmes as part of the MPA – Jurong Port MoU that will leverage new technologies to ensure Maritime Singapore stays competitive as a world class port and international maritime centre", said Mr
Andrew Tan
, Chief Executive, MPA.
SMI Forum 2017 is Singapore Maritime Institute's flagship event and in its 7th year. The forum attracts leaders from the industry, academia and government agencies to discuss key trends, challenges and opportunities for the maritime industry. The theme for this year is "Establishing a Strong Maritime Innovation Ecosystem".