Maersk Hikes Latin America Freight Rate 30%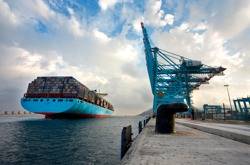 Container ship operators, Maersk Line, is increasing shipping charges on Latin America routes by 30%
According to 'Newsroom Panama' the increase, announced May 17, is ascribed to high fuel costs, the price of steel, ports, and containers.
In the last five years oil prices have increased by 250%, while Maersk Line rates have dropped over 10% in Latin America compared to its competition, said Robbert Jan van Trooijen, manager of Maersk Line for Latin America.
Although Maersk is one of the main users of the [Panama] Canal, ports and railways, the impact of rising rates will affect Panamanian exporters who send their products abroad by container.
"The consequence of this increase will be a decrease in the competitiveness of our products in the international market," said the president of the Panamanian Association of Exporters, Juan Planells. "The exports of goods in Panama is very small and anything that affects transportation costs affect the trade balance".