Maersk Oil Hires Ampelmann Gangway System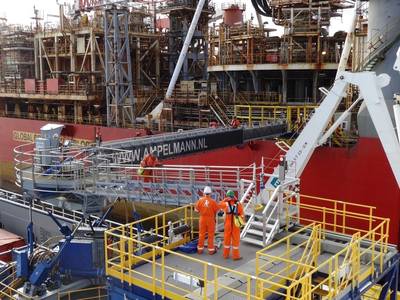 After having performed a walk to work (W2W) campaign in the summer of 2014, Motion Compensation Gangways (MCG) developer Ampelmann has again been awarded a contract from Maersk Oil North Sea UK Limited (MOUK) covering the time charter of its A-Type.
MOUK will use the Ampelmann system for a shutdown campaign in the U.K. sector of the
central North Sea
to extend the weather window and increase workability and efficiency. During the W2W campaign in 2014, MOUK was able to increase efficiency with approximately 25% compared to the 2013 W2W campaign by using the Ampelmann, the company noted.
This year, the Ampelmann A-type system will be mobilized onto the Island Crown. The system is capable of compensating actual heave motions up to 2.5 meters which ensures safe, efficient and reliable transfers of personnel to the FPSO Global Producer III. With these so called ship to ship transfers, a seventh DOF compensation is activated. An extra sensor is installed on the target vessel which transmits motion data to the Ampelmann system in a wireless mode. Due to the received data, the Ampelmann gangway is able to compensate for the target vessel's motions. Ampelmann claims to be the only company in the world to succeed in these ship to ship transfers with a MCG.