Strong Cruise Season Marks Canada Place's 30th Anniversary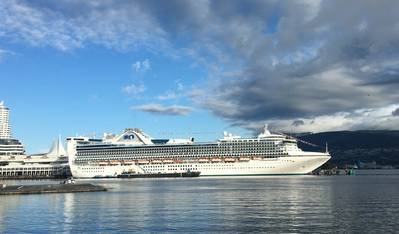 Port Metro Vancouver's 2016 cruise season officially kicks off today with the arrival of the Star Princess at Canada Place. Vancouver expects to welcome approximately 830,000 passengers on 228 calls, reflecting a forecasted 3 percent increase in passenger volume over 2015.
"2016 marks the 30th anniversary of Canada Place," said Robin Silvester, President and Chief Executive Officer at Port Metro Vancouver. "Our award-winning cruise facilities at Canada Place welcome thousands of visitors to beautiful Vancouver every year."
The results of a joint passenger survey by Port Metro Vancouver, Tourism Vancouver, Destination B.C., and Vancouver International Airport in 2015 indicated an increased percentage of international cruise passengers coming to Vancouver, boosting economic impact in the region.
The Vancouver cruise industry stimulates more than $2 million in economic activity for each ship that calls at Canada Place.
Port Metro Vancouver has built many relationships with cruise line customers over the years.
"Holland America was the first cruise line to call the new Canada Place cruise terminal on April 28, 1986," continued Robin Silvester. "We value our partnership with Holland America Line very highly, and look forward to continuing to build on this great relationship for many years to come."
"Holland America Line has been sailing to Alaska from Port Metro Vancouver for more than 40 years, and our historic connection is deepened by the fact that one of our ships was the first cruise ship to berth at Canada Place back in 1986," said Orlando Ashford, President, Holland America Line. "Our guests rank Vancouver among their favorite cities, and the ease and convenience of the port make it all the more popular. Congratulations to Canada Place on celebrating its 30th anniversary, and we look forward to an extremely robust and successful
Alaska season
sailing from Vancouver."
Environmental stewardship is a priority for Port Metro Vancouver. In collaboration with the cruise industry and BC Hydro, the port authority continues to work toward increasing the use of shore power by cruise ships calling Vancouver. Shore power reduces marine diesel air emissions by allowing ships to shut down their engines and connect to BC Hydro's electrical grid while at dock. Since inception in 2009, the shore power installations at Canada Place have
reduced greenhouse gas
(GHG) emissions by 14,000 metric tons.