Word Maritime University Anniversary Celebrated at IMO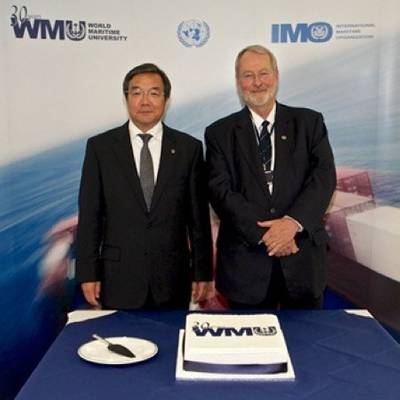 The International Maritime Organization (IMO) celebrated the 30th anniversary of the founding of the World Maritime University (WMU), based in Malmö, Sweden, with an event which included speeches from the current and former WMU Chancellors & the WMU President.
WMU was established at the beginning of the 1980s, when IMO identified a shortage of well-qualified, highly-educated maritime experts, particularly in lesser developed nations. It was to address this gap that IMO founded an institution to support Member States with the high level education necessary to implement international conventions.
The university today offers its original Master of Science degree, but also, in addition to six specializations available within the Malmö M.Sc. programme, there are now M.Sc. programmes in Shanghai and Dalian, China and a Ph.D. programme offering five specializations, within a flexible framework allowing the majority of the programmes to be completed from afar. Distance-learning is available as well, with a Postgraduate Diploma in Marine Insurance through co-operation with Lloyd's Maritime Academy.
"For 30 years, WMU has performed, and delivered, at the very highest level. It has achieved everything its founders could ever have envisaged, and much, much more. It has grown into an institution of truly world class, with an international presence and a global outreach," said IMO Secretary-General and WMU Chancellor Koji Sekimizu, who also read out messages of support from Mr. Yohei Sasakawa, Chairman of the Nippon Foundation, which has given much support to WMU over the years, in terms of sponsorship and financial assistance, and from the "founding father" of WMU, IMO Secretary-General Emeritus Dr. C.P. Srivastava, KCMG, who was instrumental in establishing WMU when he was IMO Secretary-General.

To date, 3,477 students from 164 countries have graduated from WMU and many hold very senior positions - Government ministers,deputy ministers, ambassadors to other countries. Some have pursued career paths to occupy senior positions in shipping companies, regional maritime organizations and national port and harbour authorities.

In the picture: IMO Secretary-General Koji Sekimizu and WMU President Dr. Björn Kjerfve celebrate the World Maritime University's 30th anniversary.