Arctic and Antarctic Sea Ice at Record Low in January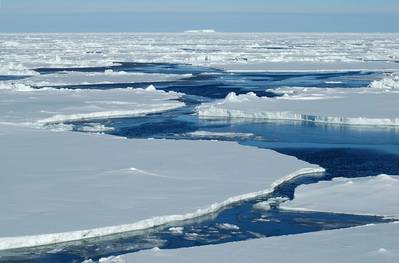 The extent of sea ice in the Arctic and Antarctic last month was the lowest on record for January, the U.N. World Meteorological Organization said on Friday, while concentrations of carbon dioxide in the atmosphere hit a January record.

"The missing ice in both poles has been quite extraordinary," David Carlson, director of the World Climate Research Programme, told a U.N. briefing in Geneva.

"It is a quite strange situation. It's extraordinarily warm in the north, and the sea ice, which is one indicator of planetary warmth, is at a minimum at this point in both hemispheres."

The month of January was probably the second or third hottest such month on record, but that was not a reliable indicator of the state of the climate, he said.

"Surface air temperature is a small hair on the long tail of a very big dog. And the very big dog is the ocean. And what you really don't want to watch is individual months of surface air temperature because they can go up for a variety of reasons.

A better guide was the temperature of oceans, or "integrated ocean heat content".

"And that in fact is relentlessly going up and up and up," he said.

There have been at least three periods this winter when Arctic sea ice has retreated, when it should have been expanding. Satellite records for polar sea ice go back 38 years.
This January, Arctic sea ice averaged 13.38 million square km. The previous record low was just a year ago, in January 2016, when there was 260,000 square km more ice - bigger than the area of the
United Kingdom
.

"The horizons that we thought we had - the number of years until summer sea ice disappears, or the number of years until we reach some global average surface temperature target - are absolutely shortening," Carlson said.

"The time for the global community to react is now."
(By Tom Miles)