Maersk Deliver Antarctica 'White Gold' to Europe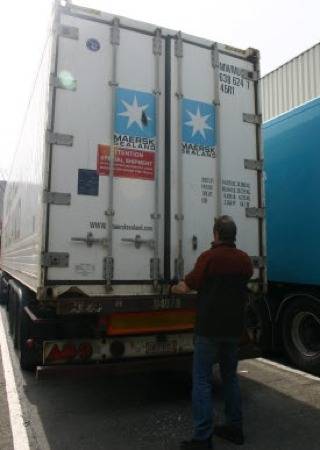 The 'white gold' is in the form of deep ice cores taken for scientific research from the south polar region for delivery to a Belgian university.
The sensitive shipment required global collaboration across several Maersk Line teams. 
Samples of ice, or ice cores, each slightly longer and wider than a baseball bat, are regularly drilled from the sea ice of Antarctica. The cores are like gold in scientific value: each containing a multitude of microorganisms (algae, bacteria and viruses) which, studies into global warming have found might serve as an efficient regulator of excess carbon dioxide in the atmosphere. 



The shipment handled by Maersk Line will be used for climatic research by the Université Libre de Bruxelles in Belgium. But before the scientists can begin their work, the precious cargo first had to traverse the globe from South to North in what turned out to be quite an exciting mission for a 'tag team' of Maersk colleagues. 

The first leg of a long voyage began in February at the Scott Base in Antarctica. The ice was packed into a standard 20' reefer container and loaded onboard a chartered supply vessel, taking it to the port of Lyttelton, New Zealand.

To maintain a constant temperature of -30 degrees Celsius throughout the ensuing 42-day transit time from New Zealand to Europe, the cargo was repacked into a 40' Magnum reefer container. And then it was off to the next stopover of Tanjung Pelepas, Malaysia. 
After covering another 5,000 nautical miles onboard the 'Maersk Seoul', the ice cores finally reached the port of Antwerp on 24 April., 2013.

Professor Jean-Louis Tison of the Université Libre de Bruxelles is head of the science team who spent weeks drilling the ice cores near the Scott Base. Now present at the university's cold store facility for the final unpacking, he admits: "Our hearts were racing when we opened the first pallet to see if the ice had travelled safely and kept intact the wealth of biological and scientific information we need for our studies." 

"We found the cores in absolute pristine condition, with not a droplet of potential melting or any broken parts."