LR Supports Chinese Recycling Yards' EU Application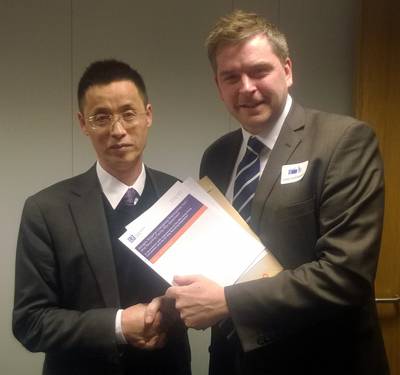 LR's initial verification of the Ship Recycling Facility Plans for both Zhoushan Changhong International Ship Recycling Co. Ltd. and Jiangyin Xiagang Changjiang Ship Recycling Yard – the first non-EU applications – is a vital first step towards the facilities' inclusion on the European Union's list.
Lloyd's Register (LR) said it is working with facilities seeking to be at the forefront of sustainable ship recycling and continues to support Sea2Cradle who have been assisting the shipyards in complying with international, regional and local regulatory requirements.
The official documents for the application were presented at a ceremony at the Berlaymont offices of the European Commission in Brussels by Li Hongwei, owner of Zhoushan Changhong International Ship Recycling Co. Ltd. and Jiangyin Xiagang Changjiang Shiprecycling Yard, Tom Peter Blankestijn of Sea2Cradle, and LR's Jim Heath.
With a capacity of 1.1 million LDT (light displacement tonnes) and 1.2 million LDT respectively, the Zhoushan and Jiangyin yards are the largest ship recycling facilities in the world.
Jim Heath, LR's Ship Recycling Product Manager, commented, "By inviting LR to provide independent third-party assessment of their Ship Recycling Facility Plans, the Zhoushan and Jiangyin yards have not just moved in advance of regulation; they have recognised the importance of attaining independent, reputable certification to help differentiate themselves from the significant number of yards who are unable to demonstrate they operate in accordance with IMO or EU requirements."
LR is now able to look forward to helping Zhoushan and Jiangyin complete their application process to the European Commission. Upon successful completion of the site inspections, early in 2015, LR will be in a position to provide a certificate of compliance in accordance with both the IMO's convention on ship recycling (The Hong Kong International Convention for the Safe and Environmentally Sound Recycling of Ships) and the European Ship Recycling Regulation.
Jim Heath, commenting on the benefits of compliance said that LR fully supports the IMO's Hong Kong Convention and the principles behind the European Ship Recycling Regulation. "LR believes that shipowners should be able to send their ships to be recycled at facilities that are in compliance with relevant legislation. This can only help to drive further improvements in the shipbreaking industry."