Port of Long Beach Announces Executive Appointments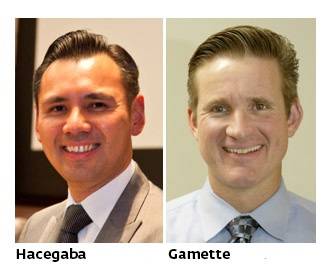 The Long Beach Board of Harbor Commissioners recently filled key Harbor Department executive posts with staff veterans as the Department continues to undergo a reorganization initiated by Chief Executive Jon Slangerup.

Dr. Noel Hacegaba, who has been serving as the Acting Deputy Executive Director/Chief Operating Officer since June 2013, was named as the new Managing Director of Commercial Operations/Chief Commercial Officer. Prior to the 2013 acting appointment, Hacegaba was Executive Officer to the Board of Harbor Commissioners, a position he was named to in July 2010. The newly created Commercial Operations Bureau, overseen now by Hacegaba, includes the Business Development, Security Services, and Tenant Services & Operations divisions. Hacegaba is responsible for all commercial matters and serves as the primary liaison to the Port's customers.

Sean Gamette, P.E., who has been serving as Acting Assistant Managing Director of Engineering/Chief Harbor Engineer since July 2013, has been made the new Senior Director of Program Delivery/Chief Harbor Engineer. Gamette, who joined the Port in 2003, was promoted to Deputy Chief Harbor Engineer in the Program Management Division in 2009. Gamette was appointed to the position that he was in on an acting basis since last year. As now organized, his part of the Engineering Bureau includes the Program Management, Construction Management and Project Controls divisions.

Roger Wu has been promoted to the newly created position of Assistant Director of Business Development. Before that, he had been Manager of Commercial Trade – Ocean Carriers since June 2014. He was hired at the Port as a Marketing Manager in 2007.

Eamonn Killeen, a Senior Port Leasing Officer, has been appointed to the position of Assistant Director of Real Estate, to succeed Gail Wasil, who retired in August. Killeen started with the Port in July 2002.