Several Appointments Made Throughout SPEX Group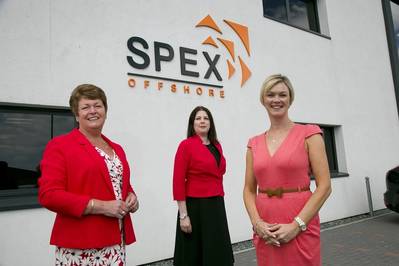 SPEX Group, an Aberdeen-headquartered provider of innovative technology solutions and services to the global oil and gas industry, has strengthened its management team with a round of key appointments.

Sylvia Halkerston joins the SPEX board of directors, following a career spanning 35 years in human resource management in both the public and private sectors.

The company has also boosted its HR and communication teams, with the appointment of Carole Innes as Business Communications Manager and Jacqui Duncan as HR Manager.

Sylvia, who recently retired from her role of HR Director at Macphie of Glenbervie, is currently chairperson of the Scotland Food & Drink Skills Academy, a member of the Scottish Funding Council Joint Skills Committee and Scottish Qualification Authority Advisory Council.

In recognition of her achievements and outstanding contribution to business Sylvia was presented an award from the Association of Scottish Businesswomen and was named Director of the Year by the Institute of Directors Scotland. She was also awarded the prestigious Top Cherry Award for her Outstanding Contribution to Human Resources, more recently she was made a Burgess of Aberdeen.

Prior to joining SPEX, Carole Innes was Business Development Manager at Brewin Dolphin in Aberdeen, where she was responsible for promoting the company's investment management services. She has also held a number of management level roles with companies in the financial sector.

Jacqui Duncan brings a wealth of experience in recruitment and human resources. More recently, she held the role of HR Advisor at Red Spider for eight years and was responsible for the recruitment, induction and learning and development of 70 employees. Prior to this she worked at Enterprise North East Trust as an Assistant Facilities Manager.

Staff numbers at SPEX have increased from around 70 to 100 in recent months and this is expected to grow by a further 30 over the next year.

The SPEX Group comprises three key business areas – Engineering & Technology Innovation (ETI), Production & Fabrication and Field Services – working with clients including both major oil & gas Operators and service companies.

ETI comprises multi-disciplinary in-house teams and industry-leading engineering, modelling, testing, machining and manufacturing capabilities delivering a sophisticated, full turnkey service from concept to completion.

Production & Fabrication provides state-of-the-art CNC machining capability both as part of turnkey client projects and also on a stand-alone basis, for customers with rapid turnaround needs.

Field Services provides a range of innovative products and bespoke solutions including in the areas of pipe cutting, recovery and well abandonment, offering cost-effective results.

SPEX has international reach, providing services across the globe. It has ISO 9001, 14001 and OHSAS 18001 accreditation.