Austal Graduates 21 Apprentices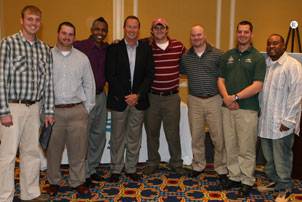 Austal USA honored the second set of graduates of our four-year apprenticeship program with a banquet in Mobile, Ala. The 21 graduates honored at this banquet received their certificates of completion and designation as Department of Labor Class A Journeymen. President and Chief Operating Officer, Joseph J. Rella, was the key speaker at the celebration. Rella stated, "The apprentice training program at Austal challenges the students both academically and practically. The program develops skilled craftsmen and women well prepared to build the innovative ships here at Austal. This program ensures the continuity of excellence for Austal's future."

The program is certified by the U.S. Department of Labor, Alabama Department of Post Secondary Education, and the Veteran's Administration and governed by the Department of Labor Standards of Apprenticeship for the respective trades of Pipefitter, Marine Electrician, Fabricator, and Fitout. The Alabama Department of Post Secondary Education has approved our four trade programs for the Veteran's Administration which means that all eligible veterans may now apply for and receive GI Bill benefits that were earned for military service. The Department of Labor requires that each candidate complete a minimum of 576 hours of classroom time and an additional 8,000 hours of on-the-job-learning over the four-year period. (For more information about Austal's recruiting efforts, visit www.austaljobs.com)

Austal is currently under contract with the U.S. Navy, as a part of the General Dynamics team, to build a second Littoral Combat Ship Coronado (LCS 4). USS Independence (LCS 2) joined the fleet earlier this year and is undergoing crew trials.

Fabrication has begun on Joint High Speed Vessel (JHSV) Spearhead (JHSV 1) and Vigilant (JHSV 2). The U.S. Navy has also awarded Austal construction contracts on JHSV 3, JHSV 4, and JHSV 5, with another five JHSV construction options to be exercised as Congress authorizes and appropriates funding annually for the Navy in accordance with their scheduled plan. This is a joint shipbuilding program between the U.S. Army and Navy worth over $1.6b.