UK Port Apprentices Get Jobs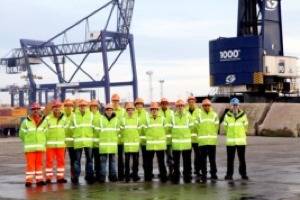 PD Ports has announced the creation of 13 full time permanent positions for Teesport based apprentices.
The new dock operations roles in both bulks and container related areas of the business will commence at the end of April, after the existing apprenticeship programme completes.

The programme took over 18 months of training and is on track to achieve 100% success rate with all 13 apprentices achieving a NVQ Level 2 in Dock Operations.

PD Ports initiated the programme in conjunction with the Redcar Development Trust, whose aim it is to support and develop the local youth and their families who want to invest in their own future. Following selection the 13 candidates, ranging from 18-30 years of age participated in a PD Ports specific pre-employment programme lasting 12 weeks, which, on completion, led to a place on the tailor made Dock Operators apprenticeship scheme.

David Robinson, PD Ports' CEO, commented: "We are delighted to announce the creation of new jobs for our apprentices. The news is particularly pleasing given it's National Apprenticeship Week, which helps to highlight the growing importance of apprenticeships as an access route to learn a trade, feel motivated and ultimately gain employment."
Working in partnership with the Redcar Development Trust and the High Tide Foundation, a new charity aimed at raising aspirations and employment opportunities, PD Ports plans to develop similar programmes in 2013.