DP World London Gateway Launch Apprenticeship Scheme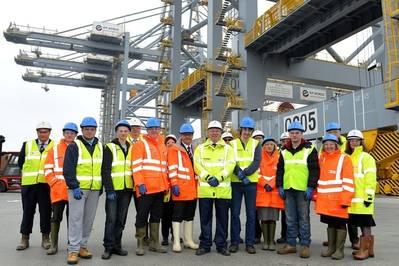 The hunt is on for six apprentices to undertake a 4-year programme combining study, training, & hands-on work experience in engineering.
DP World London Gateway will pay an annual salary for six students to study at college and carry out work experience on-site over a four year period. This will culminate in the award of a Higher National Certificate in engineering.
During the launch, Brandon Lewis MP, Minister for Thames Gateway, and local MP Stephen Metcalfe were shown London Gateway's quay cranes, amongst the largest in the world, and had the chance to see what working at London Gateway would be like. A group of potential candidates from South Essex College were also given a site tour by the London Gateway team.

Thames Gateway Minister Brandon Lewis said: "This fantastic new apprenticeship scheme will create a life changing opportunity for six young people, giving them the building blocks they need to have a highly skilled career in a world class company. Apprenticeships are at the heart of our drive for a stronger economy, and DP World's first class apprenticeship scheme shows what is achievable when Government and the private sector work together to equip future generations with the tools they need to thrive and compete in a global economy."

The selected college provider for the apprentice scheme is South Essex College of Higher Education, with campuses in Thurrock, Basildon and Southend-on-Sea.

Angela O'Donoghue, Principal and Chief Executive at South Essex College, said: "We are delighted to be delivering Advanced Engineering Apprenticeships with such a major employer. These are really exciting times for the area and we are thrilled to be part of it. There's no better way to back young people's aspirations than an apprenticeship; it is an investment in the skills that will make a huge difference to their careers. This important partnership between South Essex College and DP World London Gateway is a major contribution towards helping train and develop the next generation of engineering talent and helping this area to maintain its leading position for the future."