Corvus Battery Gains LR Type Approval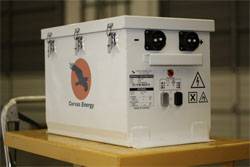 Corvus Energy's 6.5 kWh lithium-polymer batteries passed the requirements of Lloyd's Register Type Approval certification tests. Lloyd's Register North America, Inc., a leader in assessing business processes and products to internationally recognized standards, reported that the AT6500 module met Corvus Energy's manufacturing claims. It is one of the world's first batteries, designed for marine propulsion power, to receive Lloyd's Register Type Approval.
Corvus Energy's power and safety claims are so far superior to any other lithium battery company that potential customers have been shocked by 'it's too good to be true' quality. Lloyd's Register Type Approval will provide industry-wide confidence in Corvus Energy as the makers of the world's safest and most powerful lithium-polymer batteries.
Corvus Energy's AT6500 modules are currently providing diesel-engine-scale power to the Canadian Space Agency's brand-new electric lunar rover, food rock star Russ Kremer's first-ever 100 percent off-grid, zero-waste pork processing plant and a refitted Foss Maritime tugboat.
The environmental savings are huge. Tugboats, for example, idle up to 90% of the time and operate at full power the remaining 10 percent. With Corvus, a 3,000-hp harbor tug in hybrid form will save 122,000 gallons of fuel and will reduce its emissions by 900 tons of carbon, 21 tons of nitrogen oxide and 8.62 tons of particulate matter each year. Tugboats can draw extra energy from the battery packs during full-power surges, fully rely on the pack during idle periods and power critical navigational instruments for hours. The packs are the most efficient in the industry and recharge in 30 minutes.
The AT6500 is built around a brand new and highly stable nickel-manganese-cobalt-based Dow Kokam cell and is designed for the needs of heavy industry. The batteries are up to 10 times more powerful than lead-acid batteries and are, at minimum, 22 percent more powerful than current alternative lithium-polymer competitors. The batteries are built to handle the world's most hazardous ocean conditions. Fully waterproof to 1 atmosphere, they can operate from -4 to 140 degrees Fahrenheit and feature standard shock ratings at 30G and vibration ratings of 8G aboard current vessels.