BALPURE BWT System is BV Type Approved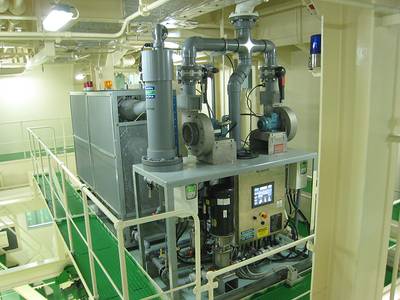 The Type-Approved BALPURE ballast water treatment system from Severn Trent De Nora has received type approval from classification society Bureau Veritas (BV) for its full range of standard ballast water treatment systems that can treat ballast water flow rates of up to 5,000 m3/h. Standard systems can be supplied as multiple sets to treat higher flow rates.

The type approval was granted by BV following stringent review of the BALPURE system per BV rules and guidelines along with the guidelines contained in the IMO Resolution MEPC.174(58). This involved a thorough review of land-based and shipboard testing results, corrosion testing results as well as hydrogen gas dispersion risk analysis by third party Naval Architect / Marine Engineering firm, Glosten Associates.

Severn Trent De Nora is in the process of obtaining type approval from other classification societies including ABS, DNV, GL and LR. With the US Coast Guard (USCG) Final Rule published on 23 March 2012, Severn Trent De Nora has also been actively pursuing Alternate Management System status with the USCG, with an objective to be one of the first ballast water management systems with the UCSG Type Approval.

Jim McGillivray, BALPURE general manager for Severn Trent De Nora said, "With these approvals coming into place, shipowners can be assured that the BALPURE system is a robust and reliable solution that can meet stringent ballast water convention requirements. As one of the most widely tested solutions, the BALPURE system utilizes electrolytic disinfection technology, which has been used by Severn Trent De Nora for more than 35 years to control microorganisms in industrial and municipal waters. The technology has a strong history in the marine and offshore markets and is now proven to be a highly effective solution to the threat of aquatic invasive species."

BALPURE is a reliable and economical ballast water treatment solution that has been proven to surpass IMO D-2 standards by ten-fold. BALPURE's slip stream treatment approach, where approximately one percent of the total ballast water flow is used to generate the hypochlorite disinfection solution, enables remote mounting away from critical ballast systems. The slip stream approach, coupled with a design that requires treatment only during the uptake of the ballasting cycle, requires significantly less electric power when compared to competing technologies – ensuring low operational costs.

BALPURE offers a virtually maintenance-free approach to ballast water treatment through the use of proprietary self-cleaning electrodes that eliminate the need for chemical and mechanical maintenance, which could otherwise be time consuming for ships' crews. BALPURE has also received third-party assurance by GL Noble Denton, which concluded after an extensive testing program that the BALPURE system has no effect on coated steel, naval bronze and Copper-Nickel alloys.