Port Aransas Ferries Begin Service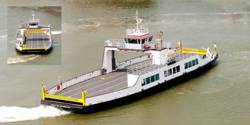 The first two of a new class of vessels designed by Seattle-based Elliott Bay Design Group LLC (EBDG) and built for the Port Aransas Ferry Service went into operation on July 1. EBDG was selected by the Texas Department of Transportation (TxDOT), Corpus Christi District, to prepare the design for this new 160-ft, double-ended ferry serving as a continuation of Texas State Highway 361 across the Corpus Christi Channel, between Port Aransas and Harbor Island.
The new vessels, the Michael W. Behrens and the Charles W. Heald, are named for former directors of the transportation department. They increase the Port Aransas fleet to eight vessels, and each new vessel has a carrying capacity of 28 vehicles, eight more than the port's older ferries.
One of the most significant structural improvements of these vessels is the pilothouse support. "The old vessels have a pilothouse on a pylon that comes up from the center of the vehicle deck," said Brian King, Vice President of Engineering at EBDG. "This ferry has the pilothouse over a bridging structure supported on each edge of the ferry, leaving the vehicle lanes clear of obstructions. This is most significant for trucks that load on the center line of the vessel." The ability of large trucks to roll on and roll off without maneuvering around a pilothouse support significantly reduces loading and unloading times.
In addition to providing a smoother and quieter ride, the new ferries include passenger shelters and accessibility to passengers with disabilities. The vessels are ABS classed and U.S. Coast Guard inspected.
Length overall (molded) 159' 7"
Length on design load waterline 153' 6"
Length between perpendiculars 145' 0"
Breadth (molded) over guard 52' 0"
Breadth (molded) at DLWL 42' 4"
Depth (molded) amidships at side 11' 8"
Draft (molded) at DLWL 8' 0"
Displacement (molded) at DLWL 512.7 LTSW
Maximum DWT Capacity 234 LT
US Gross Tonnage 79 GT
Brake Horsepower (@2100 Engine RPM) 600 BHP
Generators (2) continuous duty service @ 1800 rpm 55 KW @ 0.8 pf, 60 HZ
Fuel Oil Capacity (95%) 4,200 Gallons
Automobile Capacity 28
Passenger Capacity 150