Arctic and Antarctic Sea Ice Reach Minimum Extent for 2023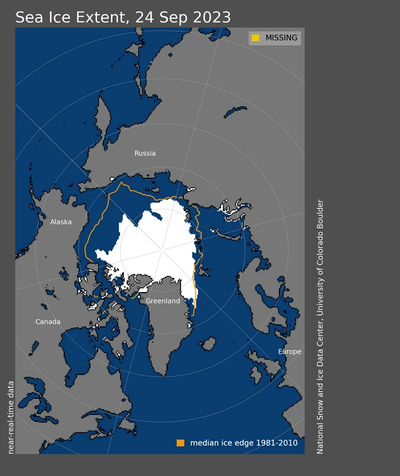 Arctic sea ice likely reached its minimum extent for the year at 4.23 million square kilometers (1.63 million square miles) on September 19, 2023, according to scientists at the National Snow and Ice Data Center (NSIDC) at the University of Colorado Boulder.
The 2023 minimum is ranked sixth lowest in the nearly 45-year satellite record. The last 17 annual minimum extents are the lowest 17 in the satellite record.
NSIDC scientists stress that the Arctic sea ice extent number is preliminary: continued melt conditions could still push the ice extent lower.
Antarctic sea ice also likely reached its maximum extent for the year, at 16.96 million square kilometers (6.55 million square miles) on September 10. The 2023 maximum is the lowest in the 45-year satellite record. It is more than one million square kilometers (386,000 square miles) below the previous record low maximum extent, set in 1986.