Costa Concordia Upright, Rests on Artificial Sea Bed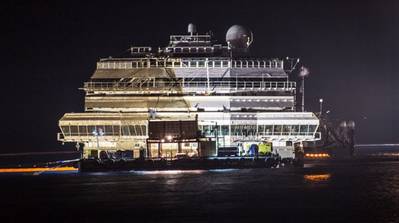 The wreck of the partly submerged 'Costa Concordia' has been successfully righted
Salvage engineers in Italy have succeeded in setting the cruise ship upright, 20 months after it ran aground off the island of Giglio, killing 32 persons.
In chronological order the reports came in from the 'Parbuckling Project' throughout the night:

7.00 P.M. Monday: The Titan Micoperi consortium announced that strandjack operations were temporarily suspended for an hour for maintenance work. It was in fact necessary to intervene with a dedicated team to avoid slack cables from interfering with the tensioned cables.

Midnight:
The ship has rotated approximately 25° with respect to the starting position. This critical point means that the operation has gone beyond the point at which the vessel no longer needs to be pulled by the strand jacks and can now rotate under its own momentum and under the weight of the ballast water contained in the sponsons.
2.00 A.M (Today, Tuesday) The vessel has rotated 35 degrees. Everything is going on according to plans.
9.15 A.M. local time: Salvage operation participants Crowley tweeted that the parbuckling operation has been completed. The wreck is now upright and resting safely on the specially built artificial sea bed.