Korean Shipyard Delivers Vroon Asphalt-Chemical Tanker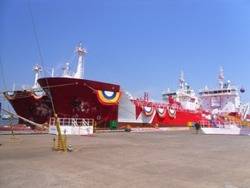 Dutch shipowners, Vroon B.V. take delivery of 'Iver Bright', a 6,265-ton asphalt/oil/chemical tanker constructed by Hyundai Mipo Dockyard
The vessel was constructed at the Hyundai Mipo Dockyard, Ulsan, South Korea to ice-class requirements. Her sister vessel, Iver Brilliant, scheduled for delivery in July will be the last of 19 vessels constructed for Vroon at the Dockyard since 2005.
In a ceremony held in Korea on 22 May, Iver Bright was named by Mrs Metos Delgado-van de Bospoort, wife of Mr Frans van de Bospoort, Managing Director Chemical, LPG & Product Tanker Group, DVB Bank.
The vessel will be operated by Iver Ships B.V. in Barendrecht, the Netherlands and ship management will be handled by Thome Ship Management Pte Ltd.
VESSEL PARTICULARS
Length o.a 111.62 m
Beam 18.2 m
Draught 6.7 m
Speed 12.6 knots
DWT 6,265 ton
Main enginr Wartsila 7L32
M/E power 3,500 kw at 100%
Tank capacity 6,095.4 m3
Cargo pump capacity 2x400 m3
Max. Load temperature 230°C
Flag Gibraltar