ASRY Organizes Third Raft Race Competition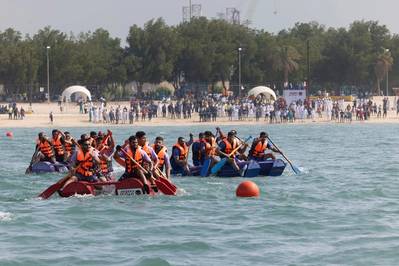 The Arab Shipbuilding and Repair Yard Company (ASRY) held its third annual Raft Race Competition on the ASRY Beach on Saturday, November 18, 2023.
More than a hundred contestants from the company's employees and subcontractors participated. In addition, SULB Bahrain took part in this year's competition as a new member, with the participation of two teams.
This sporting event, which aims to enhance social bonds, witnessed a wide audience, attended by water sports fans who showed their utmost support and encouragement for their favorite team. This year's edition extended an invitation to the general public to attend and participate.
The result of the race was decided after three rounds, which ended in favor of the Blasting and Painting team, who topped the race ahead of the Steel team that came second place, while the Offshore team won third place.
ASRY Managing Director, Mazen Matar, awarded the trophies and praised the efforts of the organizers, thanking them for their esteemed cooperation in making this distinguished sporting event a resounding success.
Through such events, the company aims to strengthen the bond between employees by providing opportunities for healthy and effective communication through friendly competition. This in turn inspires the employees to exceed their limitations as well as showcase their abilities and skills.