'Kulluk' Damage Assessment Continues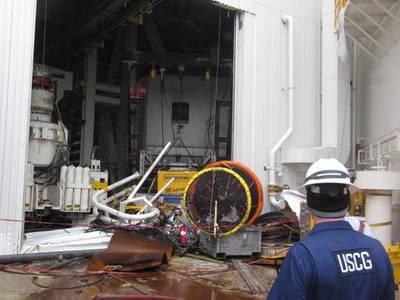 The Coast Guard continues oversight of the runaway Shell conical rig still anchored in Kiliuda Bay, Alaska.

The Kulluk ran aground Dec. 31, 2012 on Sitkalidak Island and was later refloated and anchored in Kiliuda Bay.
Coast Guard personnel from the National Center of Expertise, the Salvage Emergency Response Team and Sector Anchorage have been aboard the Kulluk to assess the vessel's stability, identify any potential pollution issues and to gather information for the ongoing investigation into the incident.

Inspectors have surveyed the interior and exterior condition of the vessel as well as reviewed remote operated vehicle inspection video of the vessel's hull. Available information is being analyzed to ensure the safety of the vessel, responding crews and the preservation of the maritime environment.

"We have had highly specialized inspectors and investigators working on this case," said Capt. Paul Mehler III, commander, Coast Guard Sector Anchorage. "Our goals continue to be safety of life at sea, protection of the maritime environment, and investigating the circumstances that led to the incident."

Coast Guard Sector Anchorage personnel maintain oversight of the operation and will conduct additional inspections as needed to ensure the safety of the ongoing operation.

A Coast Guard Captain of the Port Order remains in effect on the Kulluk and restricts the movement of the vessel from Kiliuda Bay.

Rear Adm. Thomas P. Ostebo, Commander, Coast Guard 17th District, ordered a formal marine casualty investigation on Jan. 4, 2013, into the circumstances and contributing factors surrounding the grounding of the Kulluk.