Art Anderson Associates Names New Vice Presidents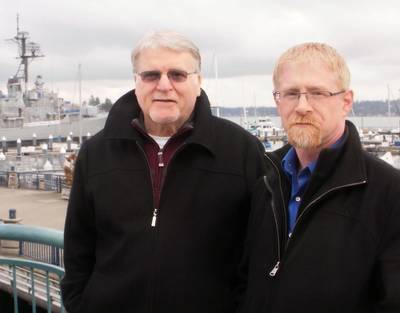 Art Anderson Associates, a Bremerton-based multidisciplinary engineering services firm, has named Ralph E. Duncan, PE as Vice-President of Marine and Sean M. Hoynes, PE as Vice-President of Facilities.
Each will be responsible for customer relationship management, program management, resource planning and allocation, contract compliance, quality assurance, personnel supervision, marketing, sales and strategy. The promotions reflect a crystallization of the firm's Marine and Facilities market sectors and position the company for sustained growth in the new economy.

Mr. Duncan will take responsibility for the firm's naval architecture and marine engineering programs, including ferry and vessel fleet engineering support, new vessel design, shipyard support, "Greening the Fleet" initiatives and US Navy research programs. Mr. Hoynes will lead the company's facilities architecture and engineering practice, which includes facility renovation, new facility design, construction management and waterfront infrastructure design. Ralph Duncan is a professional engineer with more than thirty years of diverse experience in the marine industry. A retired US Navy Engineering Duty Officer, he has held positions in ship repair and production, marine cost estimating, vessel operations, vessel inspection, marine salvage, vessel engineering and new vessel design. In more than twelve years with Art Anderson Associates, Mr. Duncan has played an instrumental role in both new design and modification projects for marine vessels. Current marine work under his supervision includes shipyard support for the mid-body extension of the Kitsap Transit Admiral Pete and design of a new Admiral Pete sister ship, refurbishment of the AMHS ferry Tustumena, ongoing fleet engineering services for NOAA, Principal Investigator for US Navy Small Business Innovation Research projects, and multiple Floating Surface Collector (FSC) fish passage facilities being deployed by various electrical utilities at hydroelectric dams.

Sean Hoynes, a professional mechanical engineer, has been with Art Anderson Associates since he initially joined the firm as a student intern from the University of Washington. His career with the firm has spanned over 30 years, with assignments varying from aircraft carrier ventilation design in his early years to managing the company's Engineering and Architectural practice for past three years. Mr. Hoynes has designed and managed a wide variety of landside, waterfront and marine projects over these years. Current program responsibilities include leading multiple projects in support of US Navy strategic missile facilities, design/build services for military installations and other government facilities including a current BEQ project at Bangor, and ferry facilities including terminals and maintenance facilities. Mr. Hoynes' other current projects include a ferry maintenance facility for the City of Vallejo's Baylink ferry system, ferry terminal work for Kitsap Transit, and improvements at the Bremerton School District's West Sound Technical Skills Center.

Messrs. Duncan and Hoynes have most recently been Talent Team leaders for their respective work groups. "As professional engineers and architects, making our clients and their projects successful is our number one priority. These guys are champions at bridging that gap between client objectives and our professional staff," said Rob Henry, President of Art Anderson Associates. Mr. Henry went on to say "These two moves position the Art Anderson Associates Team to focus on our mission of delivering conspicuous value beyond engineering to our clients and extraordinary value beyond compensation to our employees."