Atlantic Offshore Choose Havyard Design for FSV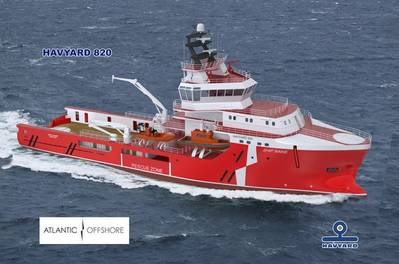 Norwegian-based Havyard Group AS to provide its Havyard 820 design for Atlantic Offshore's new Field Support Vessel (FSV)
Atlantic has engaged in a four-year standby contract with the oil- and gas corporation TOTAL in the North Sea from 2014 to put in place a new vessel with a capacity for 300 persons in the Martin Linge gas field, northwest of Stavanger, Norway.
The newbuild, due to be delivered in the summer of 2014, is a standby vessel (FSV) to a completely new design by Havyard Design & Engineering.
Atlantic Offshore has previously worked with Havyard Group. "Ocean Pride", a Havyard 832 design, was delivered to the shipping company in February this year, and CEO Roy Wareberg of Atlantic Offshore, commends the close cooperation the shipping company has with the Fosnavåg-based group.
Havyard`s ship designers say they have defined a modern and functional vessel for the future. It is adapted to the demands in both the English and the Norwegian sector, explains Wareberg, who expects more contracts based on this design within a short space of time.
There will be much Norwegian equipment fitted onboard this new vessel. In addition to external contractors involved, Havyard Power & Systems is going to deliver numerous other products and services for this project, including electro engineering, Havyard IASTM and PMS, Havyard ConceptBridgeTM, Havyard NavCom and Havyard Bridge Watch System.