Australia Navy Nabs Two Tonnes of Hashish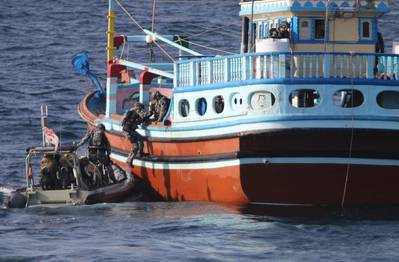 Royal Australian Navy reports that its frigate HMAS Ballarat seized two tonnes of hashish worth approximately $71 million in street value during a boarding operation on 28 February 2019.
The boarding was conducted in international waters by the Combined Task Force 150 under the direction of the Combined Maritime Forces as part of Operation Manitou.
Following the suspicious behavior of a local fishing vessel (dhow), the boarding team searched and discovered 100 hessian bags of hashish on board, which were transferred to Ballarat for testing and then destroyed.
Boarding Officer Lieutenant Lachlan Turner praised his team for conducting a safe and successful boarding.
"Our training, equipment and commitment to the job at hand makes for a very effective boarding team," Lieutenant Turner said. "We continue to ensure the same high standard on each and every occurrence.
This is the sixth seizure of narcotics by Ballarat during her current deployment to the Middle East, departing Fleet Base West in Rockingham in October last year.
The previous boardings have resulted in Ballarat seizing and destroying about 1.2 tonnes of heroin and 5.2 tonnes of hashish.
Operation Manitou is the Australian Government's contribution to support international efforts to promote maritime security, stability and prosperity in the Middle East. An enhanced security environment ensures Australia's safe and open access to the region while fostering trade and commerce.