Australian Tall Ship Rounds Cape Horn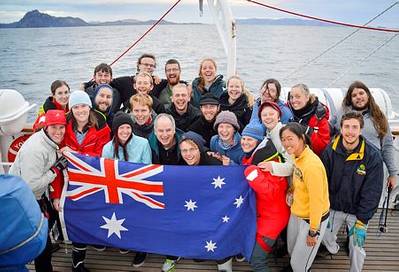 The Royal Australian Navy operated Sail Training Ship Young Endeavour rounded Cape Horn on Australia Day, 36 days into a 12-month circumnavigation of the world.

Chief of Navy Vice Admiral Tim Barrett AO, CSC, RAN congratulated the 36 seafarers on board the square-rigged tall ship, including 12 Royal Australian Navy crew and 24 alumni crew specially selected for the passage.

Vice Admiral Barrett said the passage around the southernmost tip of South America remained one of the most challenging nautical routes on the planet, and was a significant achievement for the crew of Young Endeavour.

"Young Endeavour's Navy crew are specially trained and the alumni crew were selected for their experience sailing the brigantine previously.

"This Australia Day weekend marked 27 years since Young Endeavour was gifted to Australia and began delivering youth development voyages. This is the first time the vessel has rounded Cape Horn, and her safe passage is a credit to the crew on board".

The passage around Cape Horn's notorious waters went without incident and the rare relative calm allowed the crew to celebrate Australia Day in appropriate beach attire.

Young Endeavour set sail from Sydney on 22 December 2014. The 24 alumni youth on board are the first of eight youth crews who will join the ship during the 12-month circumnavigation. They will complete their 55-day voyage at Rio de Janeiro, Brazil.

Young Endeavour is the bicentennial gift given to Australia by the United Kingdom. During the world voyage Young Endeavour will sail to Europe, Africa and the Americas, visiting 16 countries and representing Australia at the 2015 International Tall Ship Races.