Alabama State Port Authority Far East Service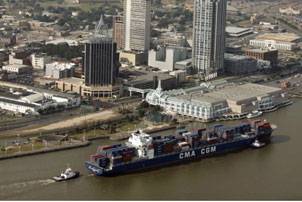 The Alabama State Port Authority and Mobile Container Terminal, LLC announced a new all-water container service between the Port of Mobile and Far East. CMA CGM added the Ports of Mobile and Pusan, Korean to its PEX3 service between the U.S. Gulf of Mexico and Asia. CMA CGM, through its division, Terminal Link, is a partner in the 18 month-old Mobile Container Terminal at the Port of Mobile.

In 2005, CMA CGM's division Terminal Link, APM Terminals Americas, a subsidiary of the A.P. Moller-Maersk Group and Alabama State Port Authority formed a joint venture partnership to construct the $300m container terminal at the Port of Mobile. CMA CGM, a 20% partner in the venture, along with APM Terminals Americas formed a terminal operating company, Mobile Container Terminal LLC, and opened Mobile Container Terminal (MCT) in October 2008 just as the global container market begin its drastic downturn in business. Despite the downturn, MCT was able to maintain volumes and add new service calls to Northern Europe and Latin America. Brian Clark, director of the new container terminal, noted the significance of CMA CGM's Asian service to his growing business. "Not only does the CMA CGM PEX3 Service offer a direct call from Asia to MCT, it also opens up new opportunities with service to the Mediterranean, African and Middle East markets where there were none previously from our port."

The new PEX3 rotation will be as follows: Singapore / Hong Kong / Chiwan / Shanghai / Pusan / Panama Canal / Manzanillo / Houston / Mobile / Miami / Jacksonville / Savannah / Charleston / Tangiers / Jebel Ali / Singapore.