Drydocks World in Talks With Suez Canal Authority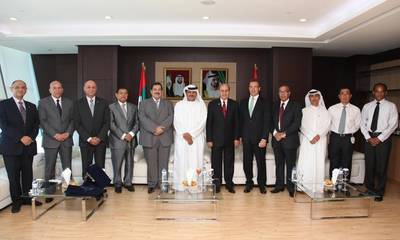 Drydocks World and Maritime World have received a high-level delegation from the Suez Canal Authority, chaired by H.E Admiral Mohab Mohamed Hussien Mameesh, Chairman & Managing Director of the Suez Canal Authority. The delegation was welcomed by HE Khamis Juma Buamim, Chairman of Drydocks World and Maritime World and senior executives of the Group. The parties discussed ways to strengthen maritime cooperation and integration in order to strengthen the Suez Canal Authority's new plans and future opportunities for cooperation between the two parties.

HE Khamis Juma Buamim welcomed the delegation and said: "We welcome H.E Admiral Mameesh and the accompanying delegation to their second home the United Arab Emirates. The relationship between Egypt and the UAE is brotherly and historical in all areas. We always take pride in Egypt and what it has provided the global maritime industry. The Suez Canal is the most important water canal for trade and global economics and it provides services and sea lane security to and from the West and the East, and the most used water canal for shipping route in the world.

H.E Admiral Mameesh stressed the important role played by the UAE in general and Dubai in particular and its leading experience in the promotion and development of the marine industry. He said: "Dubai has an incredible culture and maritime rich heritage which makes us look to Dubai experience as an important factor in what we plan to do, in particularly the development, modernization and conversion of the canal." H.E Admiral Mameesh highlighted the existing opportunities and possibilities in the Canal Zone from North to South and the future master plans.

The two sides agreed to develop cooperation and the formation of a working group to exchange experiences and discuss potential joint projects within the strategic plans for Suez Canal development.