Jacksonville Ship Channel Dredge Authorization Denied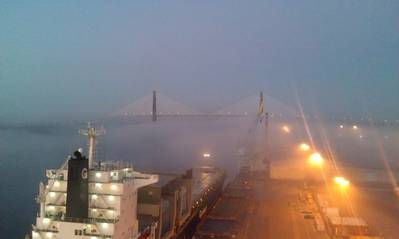 A big push for deeper water at Jacksonville's port has fallen short in the U.S. House of Representatives as the House Rules Committee voted against allowing the full House to consider an amendment offered by U.S. Rep. Corrine Brown, D-Jacksonville, that would have authorized a future 47-foot ship channel in Jacksonville, reports 'The Florida Times-Union' online.
The rejection means when the full House begins debate soon on the Water Resources Development Act, there will be no chance of adding the deepened ship channel to the massive bill.

Jacksonville's 40-foot channel isn't deep enough to handle the coming wave of bigger cargo container ships serving ocean-crossing trade. JaxPort is seeking a 47-foot channel from the ocean to just east of the Dames Point bridge, which would cost an estimated $723 million. But before the dredging is eligible for federal funding, Congress first must authorize it.

JaxPort will probably have to wait at least two years to have another shot at getting authorization in a Water Resources Development Act.

Source: 'The Florida Times-Union' online.