Top Brass Witness Future of Naval Aviation Unfold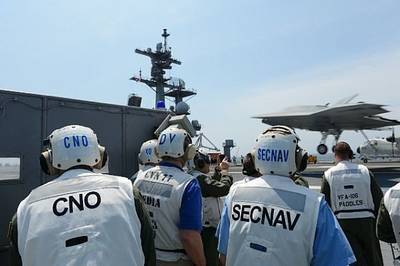 The X-47B Unmanned Combat Air System (UCAS) demonstrator completes the first ever carrier-based arrested landing on board 'USS George H.W. Bush' off the coast of Virginia.
"It isn't very often you get a glimpse of the future. Today, those of us aboard USS George H.W. Bush got that chance as we witnessed the X-47B make its first ever arrested landing aboard an aircraft carrier," said Secretary of the Navy Ray Mabus. "The operational unmanned aircraft soon to be developed have the opportunity to radically change the way presence and combat power are delivered from our aircraft carriers."



"We have certainly come a long way in the 102 years since Eugene Ely made the first arrested landing aboard an aircraft carrier. Naval aviators have always been at the forefront of operational and tactical innovation, and today was no exception," said Mabus. "People make unmanned aviation possible and it is people who will provide the fresh thinking and new ideas so crucial to successes like the X-47B program and the unmanned aircraft of the future." 

During testing, the X-47B completed the 35-minute transit from Pax River to the carrier and caught the 3 wire with the aircraft's tailhook. The arrested landing effectively brought the aircraft from approximately 145 knots to stop in less than 350 feet.

Shortly after the initial landing, the aircraft was launched off the ship using the carrier's catapult.

The X-47B then proceeded to execute one more arrested landing.

On the third approach to Bush the X-47B aircraft self-detected a navigation computer anomaly that required the air vehicle to transit to the assigned shore based divert landing site, Wallops Island Air Field. The X-47B navigated to and landed without incident.

In the pictiure: Chief of Naval Operations (CNO) Adm. Jonathan Greenert, left, and Secretary of the Navy (SECNAV) Ray Mabus observe an X-47B Unmanned Combat Air System (UCAS) demonstrator make an arrested landing on the flight deck of the aircraft carrier USS George H.W. Bush (CVN 77).