Chemical-free BallastMaster Certified by DNV GL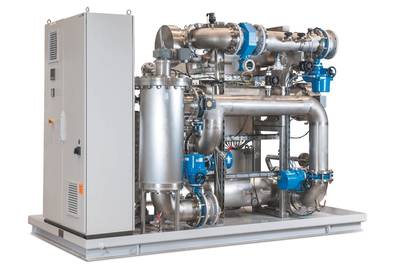 The GEA Westfalia Separator Group received Class Approval from the DNV GL (Det Norske Veritas Germanischer Lloyd) in December 2014 for its ballast water management system BallastMaster ultraV 250. With this system, the chemical-free system solution for ballast water treatment fulfils all current D-2 standards of the
International Maritime Organization
(IMO).
The certificate documents that BallastMaster ultraV 250 has been designed and produced according to the highest standards of the branch and guarantees the greatest possible operational safety, the GEA Westfalia Separator Group noted, adding that the ballast water treatment can thus be used without restrictions all over the world and ensures unproblematic passing of every harbor control.
With a performance of up to 250 cum/h and its modular design BallastMaster ultraV 250 is suitable especially for retrofitting existing ships. The DNV-GL certified system can be mounted as a complete plug-and-play unit as well as a modular tailor-made unit for newbuildings or for subsequent installation - on sea as well.
BallastMaster ultraV 250 has been designed as a two-stage system combining a mechanical preliminary filtration system with subsequent disinfection of the ballast water by UV-C and ultrasonic cleaning, with a UVT rate of around 45 percent. Even given very bad water quality and a very high concentration of organisms and sediment particles, the unit ensures a qualitatively consistent disinfection corresponding to IMO guidelines, the manufacturer said. In the process, the mechanical-physical system gets along completely without the use and generation of environmentally
harmful chemicals which
have to be disposed of at a high cost.
According to GEA Westfalia Separator Group, its system's efficient operation without use and production of hazardous
materials together
with easy, flexible installation of the modularly designed BallastMaster ultraV 250 ensures a very low total cost of ownership (TCO).